Aldern House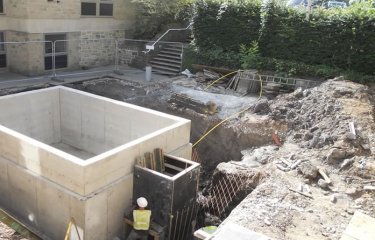 Energy-saving improvements
Location
Aldern House, Baslow Road
Bakewell
Derbyshire
DE45 1AE
Opening times
12 - 13 Oct 2013
Tours at 11am, 12noon and 1pm on Saturday 12th October 2013. Site access arrangements to be sent upon booking
This event has now finished.
Book ahead
The main technology on the site is a 200KW Biomass Boiler and accompanying 80 cubic meter pellet fuel store located in a largely underground concrete chamber.
(Also have installed cavity and loft insulation, LED lighting, optimised and compensated heating controls, draft stripping, sun tubes etc)
green-buildings.reflowstudio.com/tour/aldern-house/
Location
Aldern House, Baslow Road
Bakewell
Derbyshire
DE45 1AE
Opening times
This event has now finished.
Other homes nearby