Big Fernyford Farm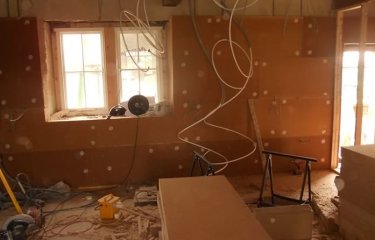 Energy-saving improvements
Low-cost improvements

'Big' insulation works

High spec heating

Renewables: heat

Renewables: electricity
Location
Big Fernyford Farm, Newtown
Longnor
Buxton
Staffordshire
SK17 0NA
Opening times
12 - 13 Oct 2013
Tours 11am, 12noon and 1pm on Sunday 13th October 2013.
This event has now finished.
Just turn up
The farmhouse has been completely refurbished in a way that is sympathetic to the traditional nature of the property while being as efficient as possible and having a significantly lower energy demand than previously. The property has been treated in such as way so as to minimise the reliance on technology and to achieve as low a demand on resources as possible. The building has been internally insulated using a fibreboard/lime base render and plaster system, made airtight as far as possible using draft stripping, airtightness membranes and tape and double glazing has been installed throughout. Ventilation is achieved using a mechanical ventilation and heat recovery system. The small heat requirement is met by a ground source heat pump linked to underfloor heating which also heats the neighbouring holiday cottage. The site also benefits from solar photovoltaic panels.
green-buildings.reflowstudio.com/tour/big-fernyford/
Location
Big Fernyford Farm, Newtown
Longnor
Buxton
Staffordshire
SK17 0NA
Opening times
This event has now finished.
Other homes nearby